---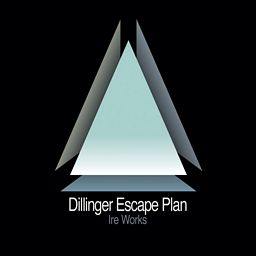 Ire Works
13 tracks - playing time: 38:26 min.
Relapse
Rating: 8.5/10

---
John Dillinger was a very busy bankrobber in his day. He was known for his graceful movement during the rob-beries let alone his narrow getaways from the 5-0. You know, the man, the pigs, filth, the po-po, the fuzz, the law, bacon. However, he was caught in 1924 and subsequently imprisoned. He was in the slammer -you know, the big house, the hole, the pen, pokey, the clink- until 1934. That is when he came up with his escape plan. He escaped the supposedly 'escape-proof' iron bar motel of Crown Point, Indiana -a place crowded with lots of cops and national guardsmen- using a wooden gun blackened with shoe polish. (Not as in Warsaw.)
Seventy-three years later, huge mathcore band The Dillinger Escape Plan releases its sixth album: Ire Works.
The pieces of anger; the frantic, typical tDEP songs are still here, and there's a whole bunch of them. 'Fix Your Face', 'Lurch', 'Nong Eye Gong', '82588' and 'Party Smasher' show Dillinger in their usual suit of somehow orderly disorder and these songs still work and are very cool.
But, as 'Miss Machine' already showed, the band can also write damn good songs, something they seem to be focussing on increasingly. Tracks with different parts, interchanging dynamics and intricate melodies with well placed ambient background noises and just altogether wonderful arrangements. Examples of such pieces are 'Mouth Of Ghosts', 'Horse Hunter' (with my main man Brent Hinds, of Mastodon fame), 'Milk Lizard' and 'Dead As History'.
During most of said songs, singer Greg Puciato shows off his full enormous vocal range, that goes from screams to grunts, to clean singing to even some emo-like vocals. In spite of his often times dreadful stage antics -I once saw the guy make himself throw up seven times in a row, claiming that seeing Papa Roach earlier made him do it, I mean: come on!-, the man deserves credit.
The most progressive of the aforementioned tunes is 'Mouth Of Ghosts'. People not having heard 'Ire Works' yet, are in for quite a surprise if they play it live. It sounds like a movie theme. As if the bad guys are about to get away with the money from the Mexican bank they just robbed (John Dillinger, anyone?), seem to be driving off into the sunset unscathed but run into trouble towards the end of the escape.
---
It's hard to describe, but it's some-thing along those lines and during the first half of 'Mouth Of Ghosts', piano is the main instrument. Quite out of the ordinary.
Another example of such a song with an intro, midsection and end is 'Dead As History'. It starts off sounding similar to something DJ Shadow would do. Then after a while the guitars come in and Puciato's sings cleanly. All the while there are background electronic noises and the like: very cool. Like DJ Shadow and Faith No More meet Pitchshifter. The track ends with some very nice piano play, not unlike in the song 'Epic' by Faith No More.
On the less impressive side of things, Dillinger just about copycats said Faith No More with a track like 'Black Bubblegum'. Faith No More was a great band and I know tDEP and Mike Patton have worked together previously, but still, if I want to hear a Faith No More song, I'll put on one of their albums.
At certain times during the 'real songs' you feel the band haven't yet really found their own form and shape in these numbers. For instance, I said 'Mouth Of Ghosts' sounds like DJ Shadow, Pitchshifter and FNM, but I did not name tDEP in the equation, because sure, they do play the song, but somehow it's not really theirs. This isn't a very bad thing, since the tracks are still good and interesting, but it's something they should work on for the next record.
'Ire Works' is a very good album. The extremely aggressive mathcore is still in place, but more so than on 'Miss Machine', they mix that signature organised chaos up with longer, more diverse and sometimes altogether com-pletely different songs. Said tracks do suffer a bit from the aforementioned lack of authenticity, but do add to the sum total that is 'Ire Works'. If they can find a way to make those 'real songs' more their own, expect complete and utter world domination next time around.
And for all the worried people: don't worry, the loss of drummer Chris Pennie is very well covered by new guy Gil Sharone.
(Frank M.)