Well, there is a first time for everything. This year was going to be the first time for me to visit the Huntenpop festival. This one day event was held for the eighteenth time. Despite the fact that there was only one band (Riverside) among the thirty plus that had my special interest, I was looking forward to check this festival out. Huntenpop has four tents. The day is divided into slots. There are two bands playing each slot. Because I wasn't familiar with the bulk of the bands, it was pretty hard making up my mind which bands to see. I decided to see as many bands as possible, even if this meant that there were going to be hardly any performance I would see from start to finish.
I was right on time at the festival ground, where I could park my car almost in front of the entrance. Since the first couple of bands to play were local bands, the greater part of the crowd had decided to skip the first couple of hours. I must admit that my expectations of the opening bands were pretty low. The first two bands, metal act Skeletor and mainstream rock band Harvest Moon proved to me that there is plenty of talent walking around in the region. It was a petty just a couple of people took the effort of checking these bands out, since Huntenpop was intended to be a stage for these bands to present themselves to a larger crowd. These two bands weren't bothered by the fact that the large tents were largely empty. I could write the same thing about the trio Enjoy The Kickback, that impressed me with their progressive sound.
A band I was secretly anxious to see was Mr. Blue Sky. I'd read a lot of positive things about this all female rock band. I can't say that this lead to high expectations though. I mean, how many good all female rock bands do you know? For sure, Mr. Blue Sky was fun to watch. There is no way I'm even going to see a bass player taking a more female pose than Mr. Blue Sky's Sarah Thorn Leeson and front lady Aafke Romeijn has a charm that reminds me of Jacqueline Govaert in the early years of Krezip. I was pleasantly surprised by their music. Nothing extraordinary, but surely easy to listen to. If you're a frequent festival visitor you're bound to run into these ladies on several occasions.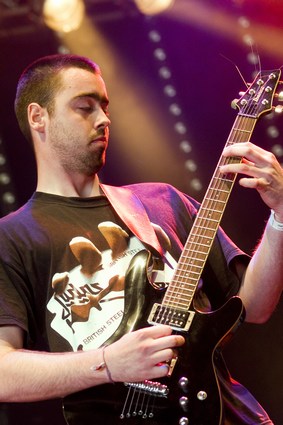 The first band to play a packed tent was Jaya The Cat. The great charisma of the singer and the appealing music with a delightful groove might have had something to do with this. This band surely knows how to play festivals. I'm not very much into ska/reggae, but these guys made a deep impressed on me.
The first highlight was followed by the first deception. Main stream rock band Enorm sucked big time. I know I'm biased. This band was formed out of one of the best Dutch progressive rock bands ever: Marathon. It simply hurt me to see these talented musicians lower themselves into playing main stream rock and even covers! Watching Enorm took away some of the magic that Marathon caused years back.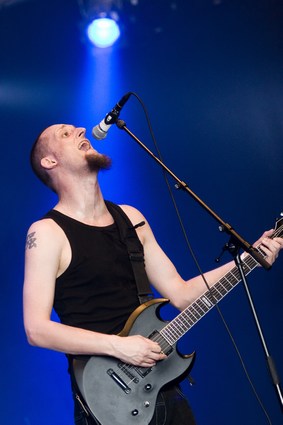 The bitter taste of Enorm was luckily splashed away with the impressive performance of The Bosshoss. A party band that got the entire crowd dancing. Quite an achievement when you're only playing covers, but understandable when you know that this band is known for their skills of turning the biggest hits of pop history and turn them into steaming country flavored rock songs, or, as the program of Huntenpop stated: "If the Dukes of Hazzard would have made music, it would have sounded something like The Bosshoss".
Back to the metal stage, I caught a glimpse of Die Apokalyptischen Reiter, a real live act, and pretty impressive to watch. The caged keyboard player isn't really my thing, but these Germans at least took the effort of turning the Huntenpop stage into a Die Apokalyptischen Reiter stage.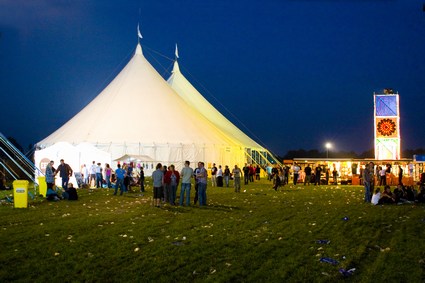 Then there were two somewhat disappointing performances. The first by Krezip, a band I've seen on several occasions, even way back in the early years of the band when the entire country seem to fall for the charm of this young and promising band. Yet, in ten years time, Krezip has turned from a relaxed, unique and appealing band into a professional music machine. I for one could help thinking that this was just another gig for this successful band. The band just didn't seem to enjoy themselves, which is a petty because a lot of people were really looking forward to this gig. Luckily Madball was playing the metal stage so I decided to leave Krezip half way through their set. Madball is impressive to see and to hear. I'm not very into the hardcore metal, but judging by this band I should give this genre another chance. The second disappointing show was by polish progressive rock band Riverside. It might be because I've seen this band in the past a couple of times (each time I was blown away by their music). Todays performance just wasn't top notch. This might have something to do with the fact that the show was filmed, causing the musicians to be even more static than they are during an average gig.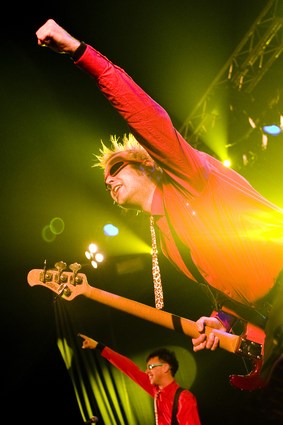 The last band to blow my brains out was The Toy Dolls. Watching these guys conquer a festival is the definition of fun. It's hard to imagine that these guys sound so fresh after thirty years of punk rock. The tent was packed, the dolls were in great shape, this was one of & no probably the best effort of the 2007 edition of Huntenpop.
The downside of traveling to the festival early, is that I didn't have the energy to visit the main acts of Huntenpop. I bailed out on Rouwen Heze (I have no doubt that they turned the tent upside down with their appealing party music) and Soulfly (shame on me). Huntenpop proved to me to be an excellent festival. It reminded me of Parkpop, because of the relaxed atmosphere and all the friendly faces and of Bospop, because of the excellent program and the solid organization. Huntenpop 2008 is already marked in my agenda!
Review and pics by Geert